About A. C. Joshi Library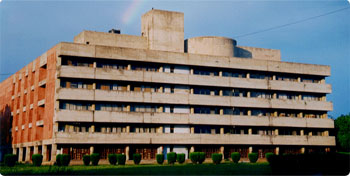 The Panjab University Library, named officially as "A. C. Joshi Library", after the name of an illustrious Vice-Chancellor of this University, was established in the U.S. Club, Shimla in the year 1947 after the Partition of the country. The Panjab University started shifting its offices to Chandigarh, the new Capital of Punjab, in 1955-56. The foundation stone of the new Library building was laid in 1958 by Dr. S. Radhakrishnan, the then Vice-President of India. The Library in its new premises was formally inaugurated in 1963 by Pt. Jawaharlal Nehru, the then Prime Minister of India. The five storyed impressive Library building in red stone and concrete is based on modern principles of architecture. Its modular and functional style fulfills the purpose of a planned Library. While all the reading areas face the North, the Staff Area is on the South side, with the Stack Area being in between. Its two main Reading Halls facing the Shivalik Hills afford a panoramic view of the natural surroundings. The Library building centrally air-conditioned and equipped with computer and communication network houses more than eight lac volumes and has a seating accommodation of 500 readers. Besides the two main reading halls there are reading rooms in the Periodicals and 650 Readers (approx.), Text Book Sections, Newspaper Section and an Outer Reading Hall for studying personal books. There is a provision of 90 lockers for teachers and research scholars engaged in serious research work. The Library has a collection of over 8 lac publications which include books, bound volumes of journals, theses/dissertations, rare books, reports, government documents, back files of newspapers, and a prized collection of 1492 manuscripts.

The Library is fully computerized, and its collection can also be searched through web OPAC. The reference collection of the Library is continuously updated. On-line Public Access Catalogue facilities are available at the Reference Hall, Transfer Cell and near Circulation Section of the Library.

The Library is subscribing to 312 current periodicals, a number of which have on-line access along with the print versions. The Library also has access to about 15000 + core and peer reviewed on-line journals and 14 bibliographical databases from publishers & aggregators in different disciplines through e-shodhsindhu consortium of INFLIBNET. These e-resources can be accessed through Campus network and Remote Access facility. Many on-line journals and miscellaneous reference sources in the public domain are accessible through the Library Website-library.puchd.ac.in. Currently, the Library has been subscribing to 20 online databases including Science Direct, Scopus, IEEE, ACM Digital Library, Institute of Physics, EBSCO, Proquest Dissertation & Thesis Abstracts, Indiastat, Districts of India, etc. with links on the website. A.C. Joshi Library has started 'Remote access facility' to access all the e-resources including online catalogue. This can be accessed by using e-library link from the library website. The library has also procured books in electronic format from reputed publishers.


Library at a Glance
Established: 1882 (Lahore) 1947 (Chandigarh)
Collection: 8 lakh approx.
Current Periodicals: 312
Staff: 57
Membership:Over 13,000
Working Hours: 9.00 am - 9.00 pm (All week days). One Reading Hall open 24 hours (except national holidays).
Automation : All Library Operations Computerized
Library Management Software: SLIM21
Telephone: 0172-2534551
E-mail: librarian@pu.ac.in