About A. C. Joshi Library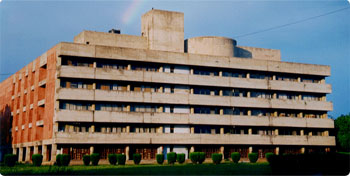 The Panjab University Library, named officially as "A. C. Joshi Library", after the name of an illustrious Vice-Chancellor of this University, was established in the U.S. Club, Shimla in the year 1947 after the Partition of the country. The Panjab University started shifting its offices to Chandigarh, the new Capital of Punjab, in 1955-56. The foundation stone of the new Library building was laid in 1958 by Dr. S. Radhakrishnan, the then Vice-President of India. The Library in its new premises was formally inaugurated in 1963 by Pt. Jawaharlal Nehru, the then Prime Minister of India.The five storyed impressive Library building in red stone and concrete is based on modern principles of architecture. Its modular and functional style fulfills the purpose of a planned Library. While all the reading areas face the North, the Staff Area is on the South side, with the Stack Area being in between. Its two main Reading Halls facing the Shivalik Hills afford a panoramic view of the natural surroundings. The Library building centrally air-conditioned and equipped with computer and communication network houses more than six lakh volumes and has a seating accommodation of 500 readers. Besides the two main reading halls there are reading rooms in the Periodicals and Special Collections Sections, and an Outer Reading Hall for studying personal books. There is a provision of 24 research carrels for teachers engaged in serious research work, and 90 lockers for research scholars. The Library has a collection of over 6.4 lakh publications which include books, bound volumes of journals, theses/dissertations, rare books, reports, government documents, back files of newspapers, and a prized collection of 1490 manuscripts.

The Library is now fully computerized with an integrated system connected to the Campus Network providing Internet and e-mail facility to the University community. The reference collection of the Library is continuously updated, and augmented with the acquisition of CD-ROM databases and access to on-line databases on Internet. On-line Public Access Catalogue facility is available at the Reference Desk on the First Floor of the Library. OPAC can also be accessed through any terminal on the Campus Network. Library collection can also be searched through Web OPAC .

The Library subscribes to about 600 current periodicals. Its holdings of back volumes of periodicals go back to nineteenth century. Library subscribes to MathSciNet online comprising of current Mathematical publications & Mathematical Reviews, and has access to 225 Online fulltext journals as part of print journals subscription. Also access to approximately 5000 online fulltext journals, is available through INDEST- Consortium and UGC- INFONET.


Library at a Glance
Established: 1882 (Lahore) 1947 (Chandigarh)
Librarian: Dr. Jivesh Bansal
Collection: 6,70,000
Current Periodicals: 660
Staff: About 100
Membership:Over 10,000
Working Hours: 8.00 am - 10.00 pm (All week days). One Reading Hall open 24 hrs.
Automation : All Library Operations Computerized
Library Management Software: SLIM21
Budget: Rs. 3.4 Crores
Telephone: 0172-2534551
E-mail: librarian@pu.ac.in